Carrot Soup
The following recipe is from The Little Book of Farmhouse Cooking. It was purchased on our trip to Ireland. I decided to pull it out and pick out a few recipes to make for St. Patrick's Day. The picture does not do the food justice. Too bad I can't just show you the picture from the book.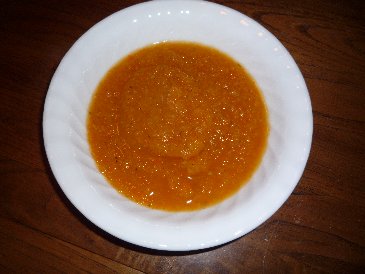 Carrot Soup (serves 4)
1 lb of carrots
1 medium onion
1 medium turnip
2 garlic cloves, crushed (Umm...I forgot the garlic!)
1 1/4 pints water or vegetable stock (I used chicken broth)
1/2 tsp dried thyme
1/2 tsp ground nutmeg
salt and ground white pepper, to taste (I omitted the white pepper)
Toasted sunflower seeds, flaked almonds and pistachio nuts, mixed together for garnish (I skipped these ingredients)
1. Peel the carrots and cut them into thick slices. Peel and roughly chop the onion and turnip.
2. Put the vegetables, garlic and water or stock, into a large saucepan and bring to the boil. Cover the pan, reduce the heat and simmer for 20 minutes.
3. Add the herbs and seasoning, and simmer for a further 5 minutes.
4. Using a liquidiser or food processor, blend the soup until it is thick and smooth.
5. Reheat the soup as required, garnishing with the seeds and nuts before serving (We skipped the nuts).
This soup was okay. I will probably try something different next year. After tasting the soup, I thought it might be good with some ginger, but Gabe didn't agree.