Visitors
I should be picking up the bedroom, finishing up the birth announcements, working on Christmas cards, or one of the other million things I need to do since Alex is sleeping. Instead, I am writing an entry to update everyone...what dedication.
Friday my mom wanted to go shopping. Now, just in case you are wondering I am not the "get up and go out at 4:00 a.m. type" and I did manage to order my shower curtain at Kohl's online at 11:00 p.m. (actually Gabe did it for me because I kept falling asleep). We went to the mall around noon thinking the die-hard shoppers would have returned home or at least stopped for lunch. We were wrong. Cops were directing traffic at the mall. It was ridiculous and finding a parking space (note: just a space not necessarily a good space) was nearly impossible. We did however luck out and found a space at Dillard's. Little did we know Dillard's is located at the opposite end as Macy's, which just happens to be the store that my mom wanted to shop. Stores had cue lines set up and shoppers were only allowed in when another shopper had left the store...crazy!
I found Alex a couple of cute outfits and my mom purchased my birthday present, Gabe's birthday present and his Christmas present, and a few things for Alex. She also found Alex an ornament.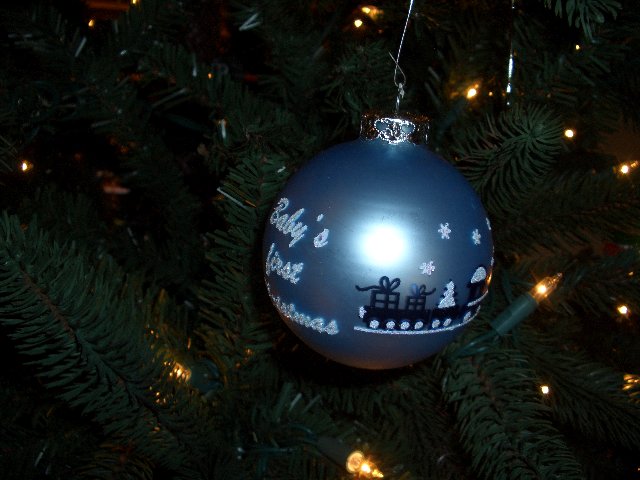 Alex's ornament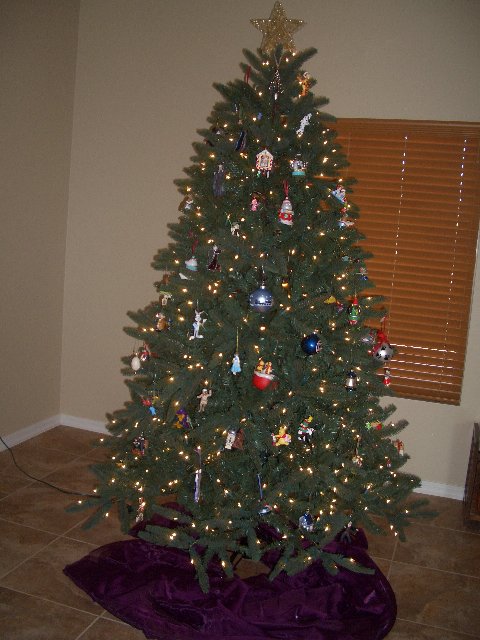 My Dad and I managed to get our tree up.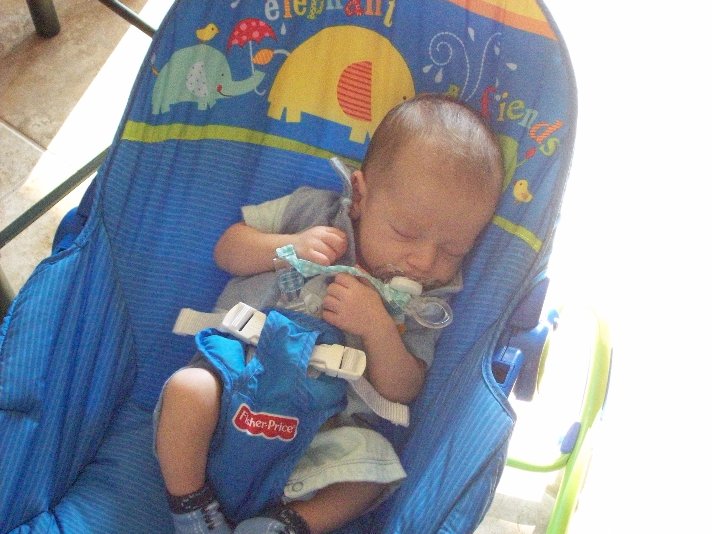 Alex helping us clean.
On the way home I stopped by Home Depot and picked up a ceiling fan that the Home Depot near us didn't have. Actually they had one, but it was a return item and it was missing the blades.
Gabe's parents arrived Friday evening. Saturday my parent's watched Alex while Anna, Duane, Gabe, and I went to his office. This time I was able to take the tour and see what Gabe works on. My mom also made spaghetti and meatballs while we were gone. Duane, Anna, Gabe, and my Dad all attempted to go to the pecan factory on Saturday, but they missed the store being open by 3 minutes.
Sunday was my birthday and we had our Thanksgiving dinner. We were supposed to have the meatballs on my birthday and the turkey on Saturday, but the turkey was still a little frozen. My mom made a very yummy carrot cake. I couldn't find the candles, so I had one taper candle in the middle of the cake to blow out. My Dad was also our "professional photographer". He took several pictures of us so we could pick one out for our Christmas card. Gabe and I decided it would just be easier to take our pictures at home instead of taking two dogs and a baby to a photo studio.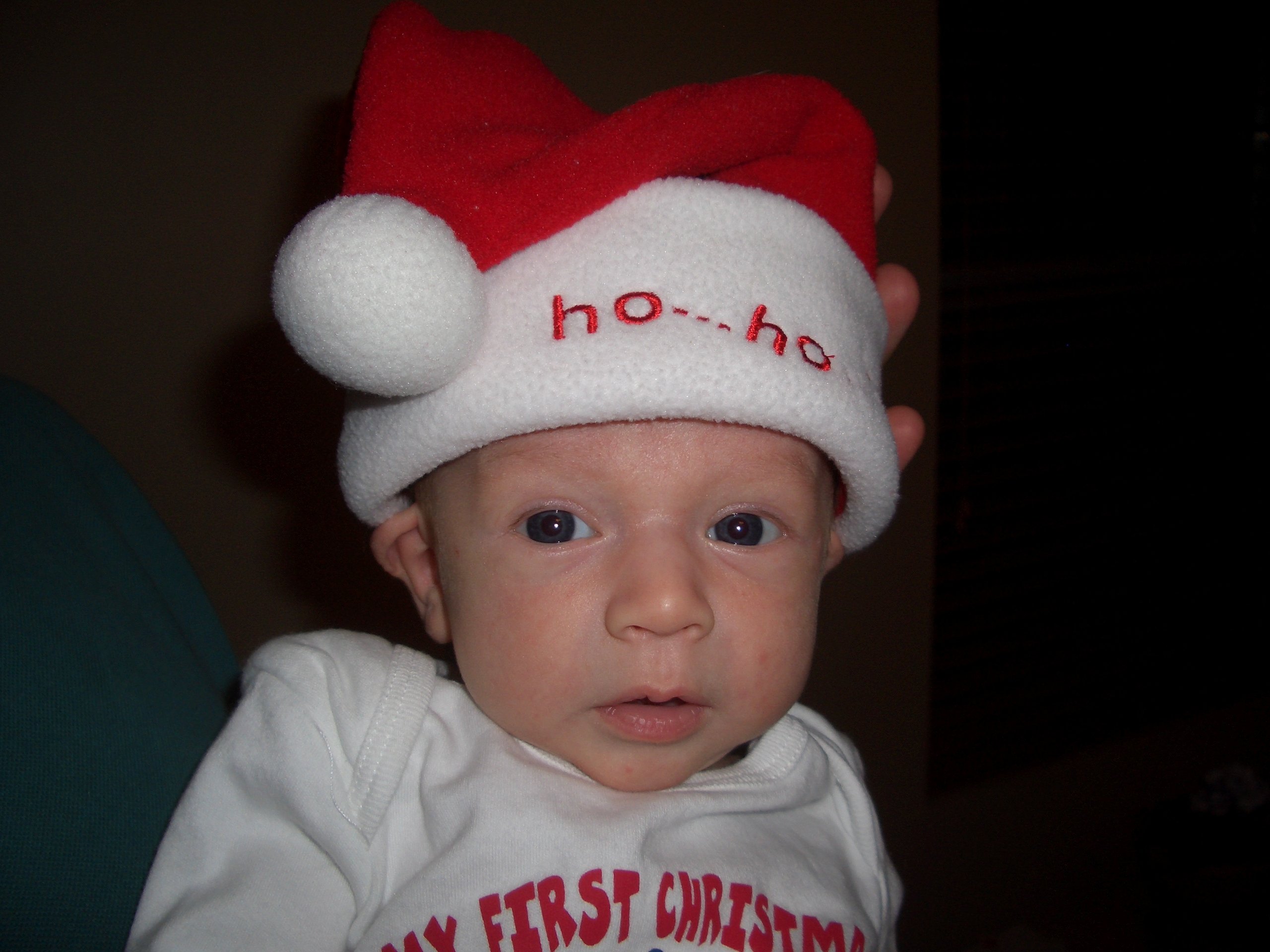 Alex in a Santa hat.
Very early Monday morning Gabe dropped my parents off at the airport. Their flight was delayed due to the weather in Chicago. Luckily, they had a four hour layover so they did not miss their connecting flight. Monday morning we applied for a passport for Alex. Monday afternoon we went to the Arizona-Sonora Desert Museum with Gabe's parents. Alex slept through the majority of the zoo.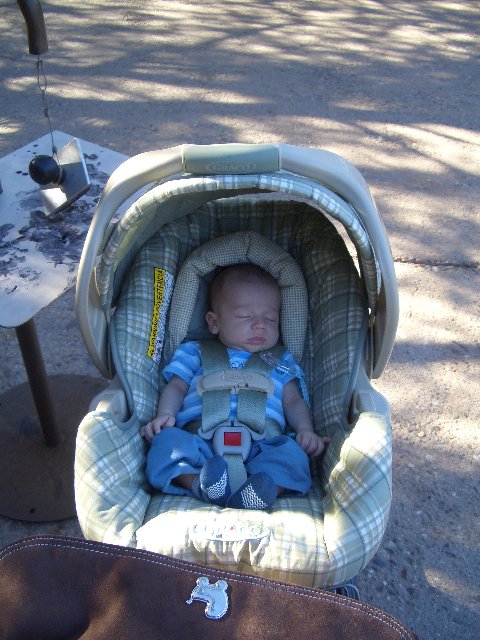 Alex enjoying the Desert Museum.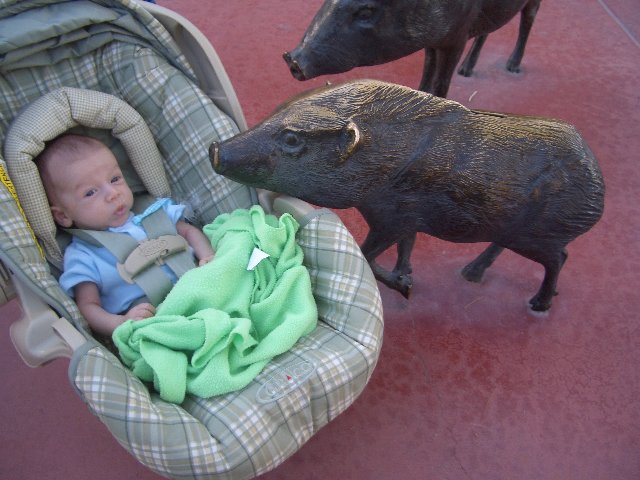 Alex hanging out with the javelina.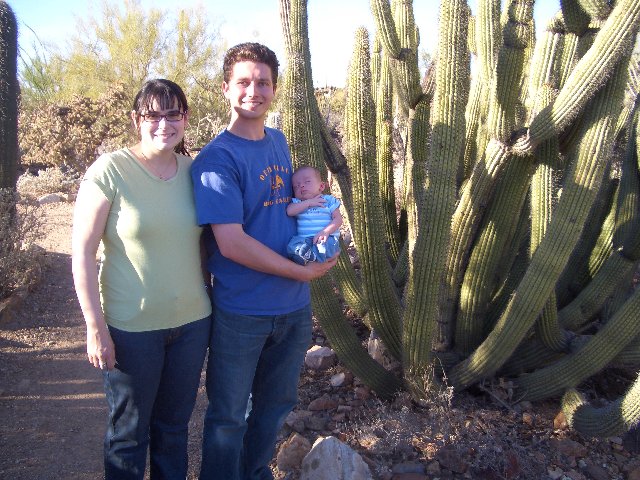 The three of us with a cactus on an 80 degree day in December! Maybe I should throw this picture in our Christmas cards too.
We went to Sam's on the way home and received our Christmas present from his parents a little early. We picked out a mini-fridge for the upstairs of our house. This way we can store the pre-made bottles upstairs instead of having to go downstairs at 3 a.m. We put it to use for the first time last night and it was wonderful.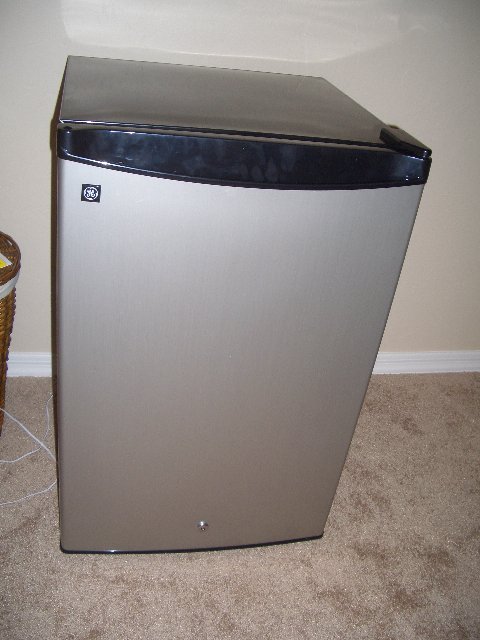 Mini-Fridge
Tuesday morning we had lunch at Agave and then went to the copper mine gift shop and museum. They offer a tour of the mine, but there just wasn't time (they had to catch a plane home). I came back with Alex and Gabe dropped his parents off at the airport. When he came back we worked on the house a little more.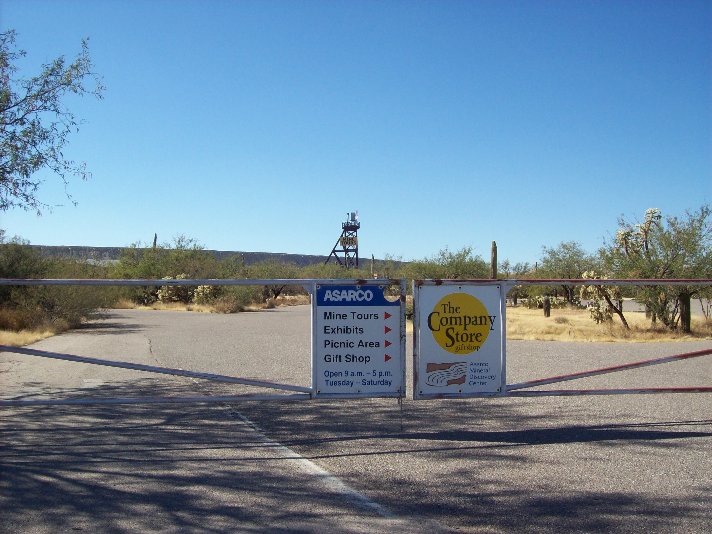 Entrance gate to mine property.
Gabe is at work right now, but he will be coming home in a few hours. Alex has his one month appointment today and he is getting a shot. I am not looking forward to the shot.
I think that wraps up the update. I am going to pick up our bedroom and then get back to cards, packages, and wrapping Christmas presents.