Thanksgiving
Gabe picked my parents up from the airport last night around 10:40 p.m. Alex and I stayed home. After wading through the maze of boxes, we finally made it to bed sometime after midnight.
This morning we headed out to have lunch at a Mexican restaurant that we really like. Unfortunately, they were closed for Thanksgiving. I guess you can't really blame them for wanting to spend time with their families. We ended up going to Arizona Family Restaurant. It was our first time there and it was pretty good. Gabe and my Dad ordered breakfast and my mom and I ordered lunch.
After eating we headed out to Gabe's office. He gave us a tour of the facilities. Alex and I hung out in the car for part of the tour (safety glasses were required).
We came back home and worked on clearing out some boxes. Now, before you think I forced my parents to unpack boxes, my mom really wanted us to get things organized so we would all have somewhere to sit (and I think she knows the lack of organization really bothers me). Gabe and my Dad managed to install of the ceiling fans. We still have three more to purchase since Home Depot was out of the fan that I wanted for the kitchen area.
We took a break and went to eat Thanksgiving dinner at a buffet. We have a turkey in our refrigerator, but it is currently thawing. We will have it in a few days when Gabe's mom and dad arrive.
We came back and finished the room we were working on downstairs. Then my Dad and I came upstairs and began working on another room that was box city. It isn't any where near completion, but it is looking better. Maybe tomorrow we will be able to finish it. I need to throw some towels in the dryer and maybe start another load of clothes. I am so tired right now I would fall over if I wasn't reclining in a chair with arms. There are a few Kohl's deals that I would like to purchase online, but I don't think that I am going to be able to stay away (Alex may have a different plan).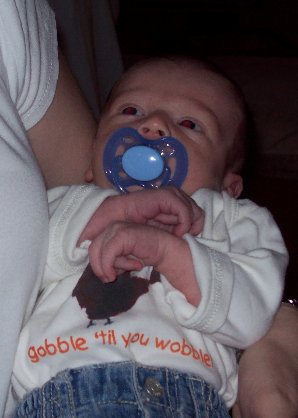 Alex in his "gobble 'til you wobble" outfit. There is a turkey on the onesie.
I hope everyone had a very happy Thanksgiving.