Warm Weather
This past weekend was full of movie watching. We watched Deception. It didn't really meet my expectations. However, Shooter was really good. Mark Wahlberg plays a sniper that left the military when one of his missions did not go exactly as planned. He joins back up again, but ends up being double-crossed once again. He then begins to serve out his own type of justice. Last night we watched Run, Fat Boy, Run. It is about a guy that decides to run a marathon in order to win back the woman he let go. It was a bit predictable, but definitely funny at times.
Yesterday we also went to the grocery store...I know, very exciting. Gabe also snapped a picture of our house to post on the blog. The changes to the front of the house since the last picture include a finished driveway and a finished roof. I will try to get another picture once the landscaping is finished.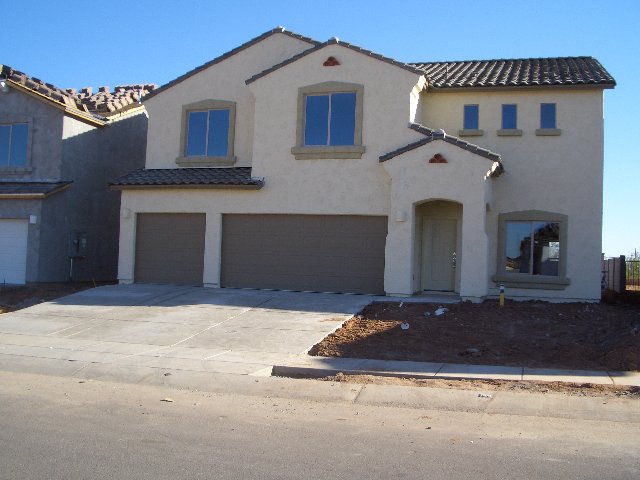 I am going to attempt to finish (well, at lest make a huge dent) in our scrapbook for 2008. I would like to have it up to date by tomorrow.
I am watching the news while typing this and the weather segment was just on the T.V. We still aren't finished with the 90's (they are in the forecast 4 times up to the first of November and upper 80's on the other days). Chicago's high for today is 42. The high for my hometown is 49. There is snow in the forecast for Northern Minnesota! The kids here are going to be sweating in their Halloween costumes. The high for both Halloween and November 1st is 91. This means it will probably be around 95. They always seem to be off by about 4 degrees. I am seriously going to wear shorts in November...maybe even on my birthday.