More Movies
There hasn't been a lot of excitement around here lately. We went by our house yesterday and the roof is on, the view fencing is up, and all of the tile flooring is down. They have things prepared to pour our driveway! I might swing by tonight to see how things are progressing. I might even take a pictures since I didn't take one yesterday.
Gabe and I were driving around the neighborhood and found our neighborhood's park. It is within walking distance of our house.
The exterior of the house has been painted since last Tuesday. I actually have a picture from then (even though it was really dark when it was taken).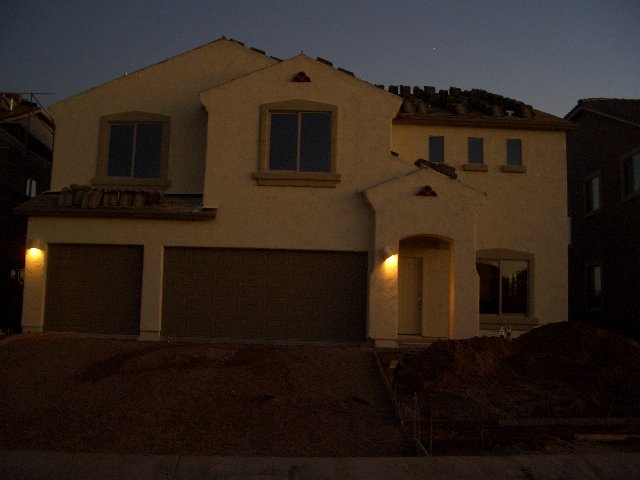 We have watched a few movies lately. Rocket Science...umm...not good. A boy that stutters joins the debate team in high school. I just didn't like the way things ended for the characters and I didn't find it to be that funny. Another movie we watched was Iron Man. This was Gabe's choice. It is a movie based on a Marvel superhero. I thought it was going to be terrible. This movie was really good. I would recommend it if you haven't watched it yet. 10,000 BC was a disappointment and I didn't really like it. I will say I liked the scenery. We also watched the Bourne Ultimatum. It is the next movie in the Bourne series. I liked the Bourne Identity the best, followed by the Bourne Supremacy, and finally the Borne Ultimatum. Maybe I should try the books.