This & That
I have a medium length list of things on my to do list that I do not want to do. So, similar to Karen, I have decided to do one lingering item each day. One thing isn't that bad. I am happy to report that it has been very successful. Hopefully, very soon, I will have a really short list of things on my to do list.
I recently finished Everyone is Beautiful by Katherine Center. The main character is Lanie. She and her husband, Peter, pack everything and move across the country so he can pursue his dream. She finds herself somewhere along the way. This is not the type of book I usually read, but I gave it a shot. It turned out to be pretty good. Plus, there is a cupcake on the cover of the book. It can't be bad if there is a cup cake on the cover, right?
We rocked at the no spend challenge the first month (June). We found plenty of free or inexpensive things to do. We went to the zoo and since we are members, it was free (or prepaid...however you want to look at it). We watched a lot of movies. Our DVR is near capacity. We have been too busy to go out and do anything for the past month or so. However, we have had a lot of unexpected expenses. There is a conference that I will be attending soon and that took a huge chunk out of the budget. There are quite a few things that had to be pre-paid (registration, classes, hotel). There is another major expense, but I don't remember it. So, if you remove those two things from the budget for July, then we aren't doing half bad.
I have slowly been working on more Christmas presents. I completed 9 last night, but they were all the same thing. I need to update my spreadsheet pretty soon.
I decided to complete a few projects that I have wanted to do for a while now. I made us some luggage handle covers and I made myself a pin cushion.
I am giving a brief description of the steps that I followed to make the luggage handle covers. I made a very tiny change to the instructions from Little Birdie Secrets. Make sure and check out her awesome tutorial for the project. She has a lot of very easy to follow pictures.
Cut out two 6 x 6 1/2 pieces of fabric and one 6 x 6 1/2 piece of batting. Place the two right sides of the fabric together and then place the batting on top. Sew the fabric together (1/4" seam allowance), but make sure to leave a small opening so you can turn the material right side out.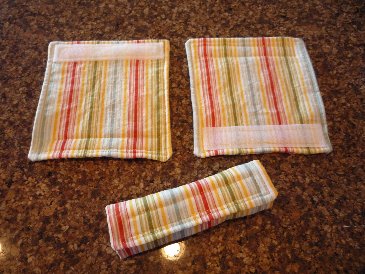 After turning the cover right side out, fold the material for the opening under and sew all the way around the cover (this is different from the tutorial on Little Birdie Secrets). Next, sew on the two pieces of 5" velcro so they match up. Place on your luggage. Now our black bags will stand out a little more. I used striped material so I had to match the lines up. If you use something with a random pattern then matching up lines won't be a problem.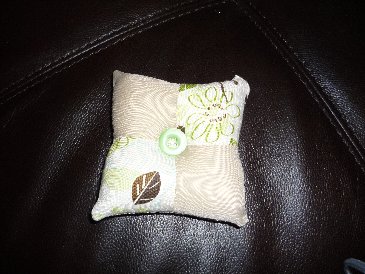 Make sure and head over to Paper.String.Cloth for a great tutorial on how to make the cute little pin cushion. I followed the directions exactly. I like the look of the patchwork, but next time I might try a solid piece of material and see how that works out.
I think we might see Harry Potter this weekend. I am pretty excited. A lot of it depends on the weather. If it is still 100 or higher around 8:00 p.m. I doubt we will go. It is just too hot for Alex to sit out and watch a movie when it is that warm (we go to a drive-in).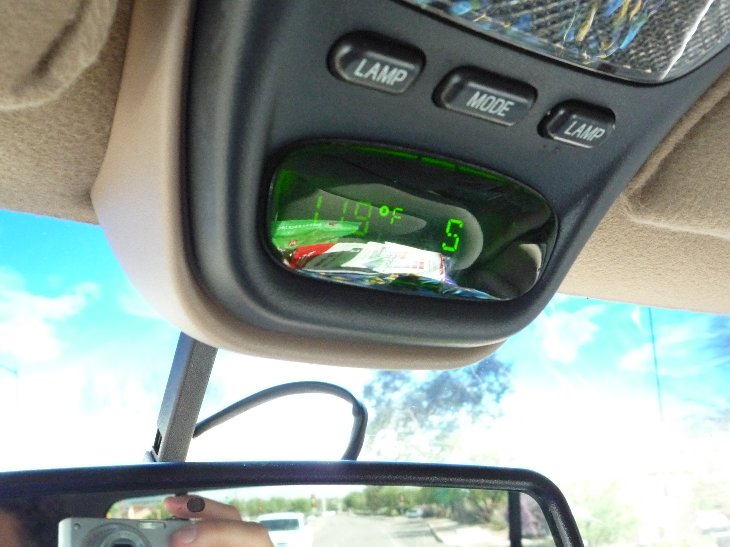 This was taken a few days ago. Can you read the temperature reading? It is 119! By the time we were back home it was only 111.
Books I have left to read:

Run For Your Life by James Patterson
Rites of Spring (Break) by Diana Peterfreund
Tap & Gown by Diana Peterfreund (Available May 19, 2009)
The Lost City of Z by David Grann
Sex and the City by Candace Bushnell
The Sex Lives of Cannibals: Adrift in the Equatorial Pacific by J. Maarten Troost
Broken Music: A Memoir by Sting
Catch Me if You Can by Donna Kauffman
The $64 Tomato by William Alexander
Storm Front by Jim Butcher
The Absolutely True Diary of a Part-Time Indian by Sherman Alexie (this one is for a book club, so I had better get cracking!)