Easter Recap
Our trip is planned! I worked and worked figuring out what we are going to do at each place we are going. Gabe finished up the last of activity planning a couple of nights ago. We are going on an organized tour at one location.
On April fool's day I had a cookie exchange. There were some pretty yummy cookies. Since it was so close to Easter, I made egg nest cookies. I found the recipe on a jar of Jiff peanut butter a long time ago. I have made them several times and they always turn out cute.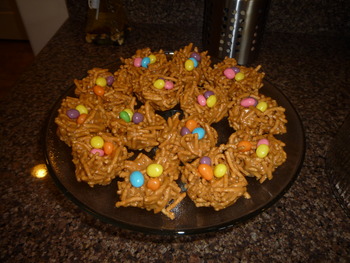 Gabe was home on Good Friday. We played out in the yard a lot.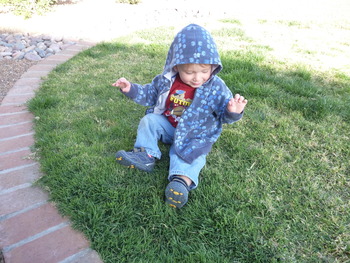 Hanging out in the grass.
Saturday we went to two more Easter Egg Hunts.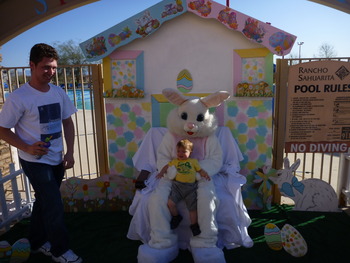 He still doesn't like the Easter Bunny.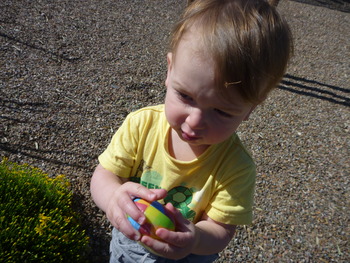 Hunting for eggs.
Sunday Alex tore into his basket. We had Belgian Waffles for breakfast (Gabe makes them for special occasions). After breakfast, we headed to church and after the service, Alex hunted eggs again. We came back home had a yummy meal and then Alex hunted eggs at our house. He had a lot of Little People eggs to collect, a few with gummy fruit snack, and a couple with bubbles.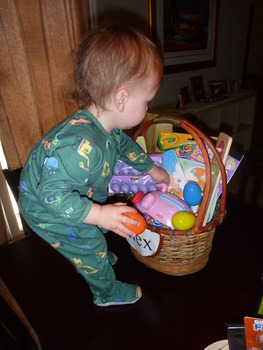 Alex and his basket.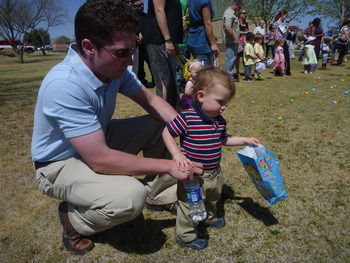 Getting ready for the hunt.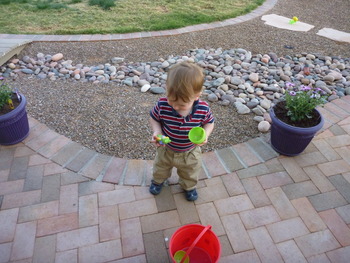 Hunting eggs at home.
Monday morning I went to a couple of stores with some friends. After shopping I went to the grocery store. The day after a holiday, they give the holiday balloons away for free. I picked on up for Alex and he loved it...actually, he loves it because it is still around.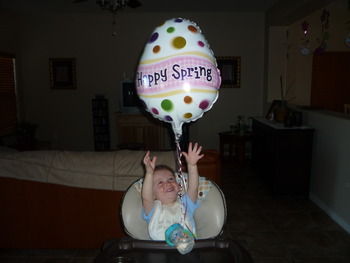 Alex loves balloons.
Alex stayed home with me on Wednesday and I went walking with Debbie on Thursday morning. Friday Cindy and I went for breakfast and on Friday night, Carrie, Debbie, and I all went scrapbooking. I am not finished with August and I have a partially completed September.
Saturday we did some grocery shopping, Alex flew a kite for the first time, we had dinner at Kevin's, and I went to a Southern Living at Home Party.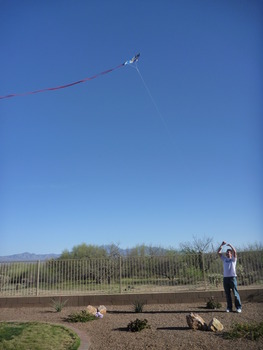 Gabe flying the kite.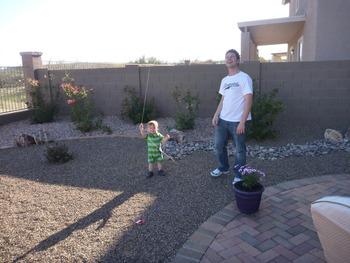 Alex having fun flying the kite. Some of the neighbor kids and adults even came over to fly the kite.
Sunday was fun. We went to Madera Canyon and walked around. We also attended Anya's birthday party at the park.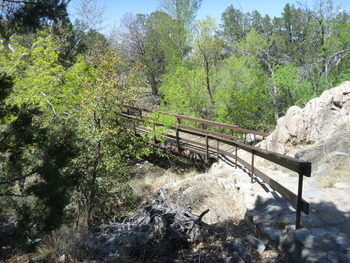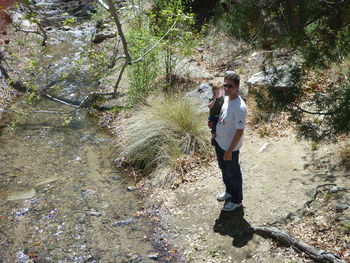 Gabe and Alex at Madera Canyon. This time I made it home with my camera.