Easter Bunny!
I have been trying to write this entry for a while now. Hopefully this time it will work.
On the seventh, Alex, Gabe, and I went to the Tucson Museum of Art to see the Andy Warhol exhibit. My favorite was the Einstein screen print. Alex loved the fountain outside.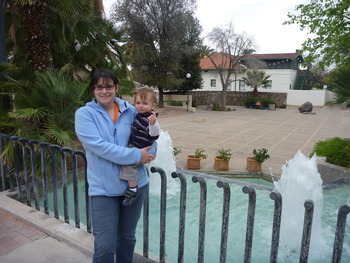 Alex's had fun watching this fountain.
The next day I went out to dinner with my Bible study group. We were celebrating one person's move to another state and another person's new baby.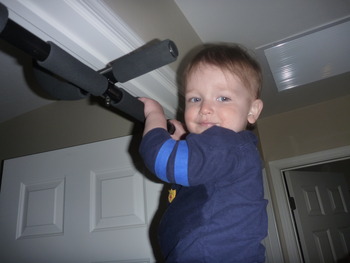 Random picture of Alex doing a pull-up.
On Tuesday, Alex discovered how to go down the slide backward. This is now his favorite way to go down the slide.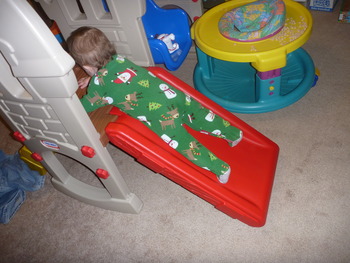 Backward Slide
Last weekend was rough! Gabe was in Phoenix for work from 5:00 a.m. Thursday until 9:00 p.m. Saturday. Gabe usually puts Alex to bed at night and Alex was not happy when I was the one going through the routine. I would get about 2 hours of sleep (not even consecutive) and he would just scream and yell "Da". At one point, when he had been up since 2:00 a.m., I called Gabe at 5:30 a.m. and had him talk to Alex. This helped a little. Next time Gabe goes on a trip, we are going too.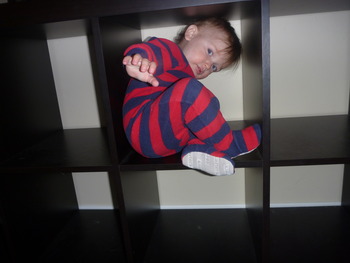 Climbing in the furniture
Sunday was a pretty busy day for us. We went to the St. Patrick's Day parade in Tucson. Gabe and I also managed to finally sit down and work on the puzzle again...we finished it! Alex had his picture made with the Easter Bunny. It was like the Santa Picture. We celebrated Pi Day by eating pizza pie, Pierogies, and blueberry pie. The 14th was Einstein's birthday too, but we didn't manage to eat German Chocolate cake.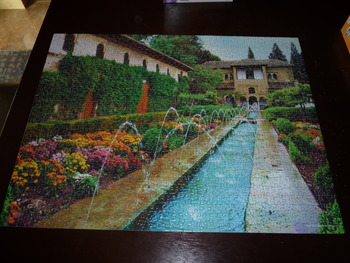 Completed puzzle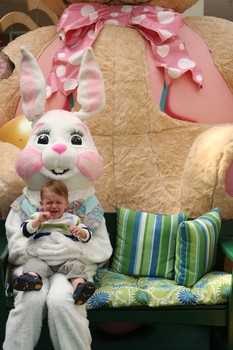 Easter Bunny
While we were out on Sunday bought Alex a no mess Color Wonder book and markers. These are wonderful! He can color with markers but they only work on the special (and expensive) coloring books. So, he can't get maker on himself, the furniture, the carpet, the walls, etc. Nicolle told me about these and they are awesome. I also bought him the finger paints, but we haven't tried them out yet.
Yesterday, Alex and I met some people at a local park and played for a while. The weather was nice. Today the high is 84. We are having some really nice weather.
The latest book that I read was Percy Jackson and the Olympians: The Lightening Thief. The book was good and is serving as a Harry Potter substitute. I am really looking forward to watching the movie.